Often mentioned in songs and the current home of London's top vintage markets, Bethnal Green is a hidden gem one can check out after a Top Sights Tour! Check out our neighborhood guide below.
Situated in the fashionable East London, Bethnal Green is a dynamic inner city hub boasting excellent Overground and Underground links. A 6-minute train takes you into London's Liverpool Street, but with all Bethnal Green has to offer, you'll never have a reason to leave.
Whether solo visitors or with family be sure to stop by the V&A museum of childhood.  Home to one of the world's finest collections of children's toys, doll's houses, games and costumes, the Museum of Childhood shines brighter than ever after extensive refurbishment, which has given it an impressive entrance. Part of the Victoria & Albert Museum, the museum has been amassing childhood-related objects since 1872 and continues to do so with 'Incredibles' figures complimenting bonkers 1970s puppets, Barbie Dolls and Victorian praxinoscopes. The museum has lots of hand-on stuff for kids dotted about the many cases of historic artefacts. Regular exhibitions are held upstairs, while the café helps to revive flagging grown-ups.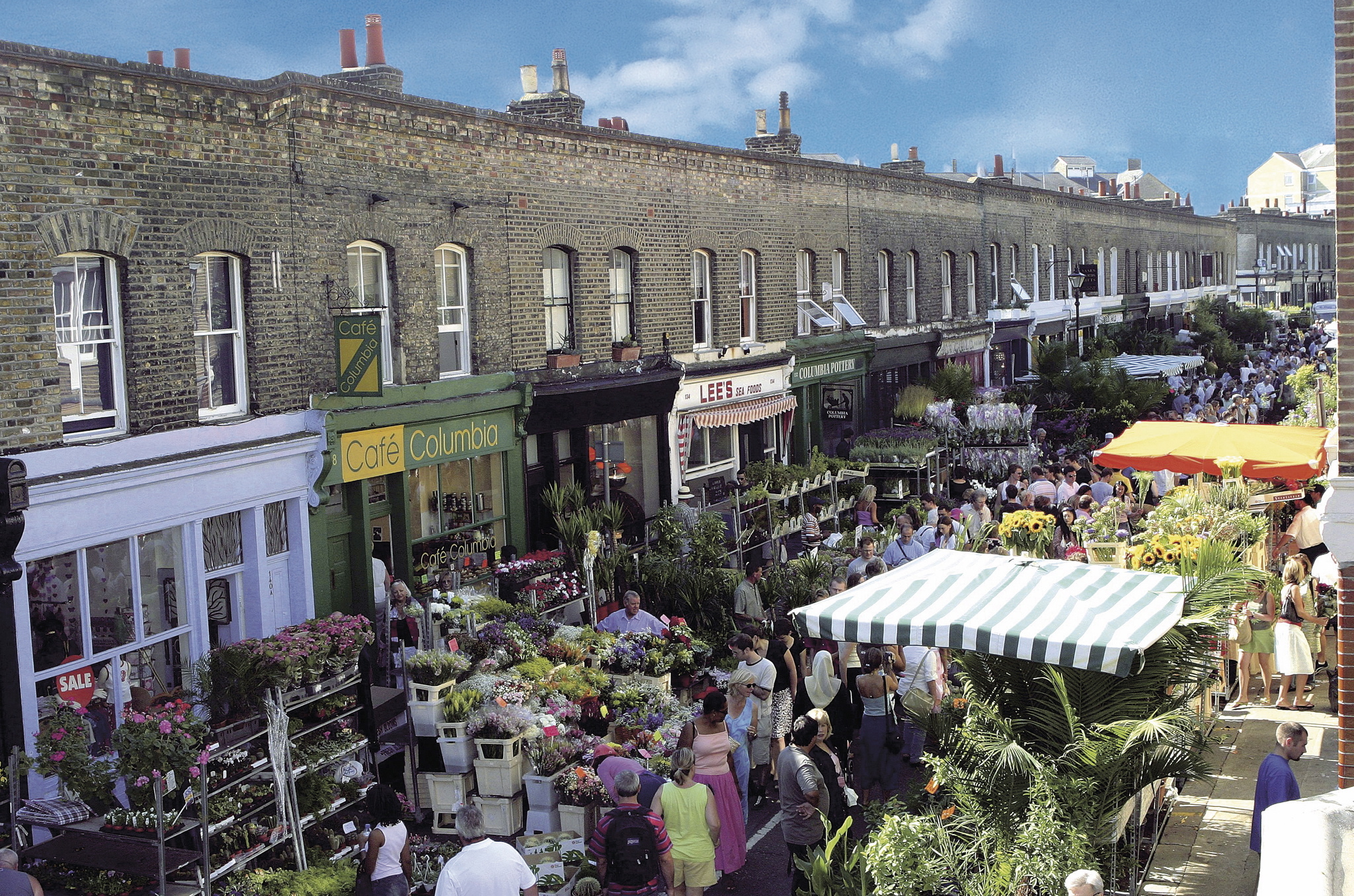 Bag some bargain blooms at Columbia Road Flower Market
Columbia Road flower market and shops are open on Sundays from 8am 'til 3'ish come rain, wind or shine and even on Easter Sunday. Columbia Road is in the East End sitting on the edge of the city with Shoreditch to the west and Brick Lane and Spitalfields nearby. On Sunday the street is transformed into oasis of foliage and flowers. Everything from bedding plants to 10 foot banana trees are up for grabs. The air is intense with the scent of flowers and the chant of the barrow boys "Everthin' a fiver"? A lot of the flower sellers grow their own plants or import flowers from around the world.

We are one of the few streets in the country composed of sixty independent shops. Small art galleries sit next to cup cake shops, vintage clothes stores, English and Italian delis, garden and antique shops. There is also a wealth of great pubs, cafes and restaurants. The shops have a common thread, a love of the flower market and its history, and a refusal to be dictated to by a retail world where the sense of fun has all but gone. 
Have a proper 'caff' experience at E Pellicci
While the area around it desperately gentrifies, East End café E Pellicci sticks to the old values of hearty food, warm hospitality, and salty humour. Max Olesker celebrates a London institution. E Pellicci can claim to be the oldest family-run café in London. It was in 1900 that Priamo Pellicci, his wife Elide and their son Dorino left the village of Roggio in Provincia di Lucca, Tuscany, and came to London, where Priamo took a job in a small café. When the owner, a fellow Tuscan, decided to return to Italy, Priamo bought the place. It was named E Pellicci, in honour of Elide, and initially sold cigarettes and sweets as well as food. "Probably just egg and chips back then, though," says Anna. "We didn't do none of that foreign rubbish until the Eighties!" Together, Priamo and Elide ran the café and had six more children; Dorino was followed by Peter, Olga, Terry, Joe, Nevio and Meri.
Find your inner Zen at London Buddhist Centre
The London Buddhist Centre (LBC) is a temple in Bethnal Green in East London, is the main base for the London Triratna Buddhist Community, formerly known as the Friends of the Western Buddhist Order. It opened in 1978, and is located in an ornate, vernacular redbrick Victorian fire station, completed in 1888, and in use by the London fire service until 1969. The building was fire-damaged in the 1970s, before being renovated by volunteers for its current use. Further major improvements were completed in 2009.
Catch local stand-ups at Backyard Comedy Club
Situated a two minute walk away from Bethnal Green tube and overground stations at 231 Cambridge Heath road and have been a major hub of the nightlife and social scene in East London sinceopwning back in 1998, becoming one of the major comedy clubs in the capital with our esteemed reputation for great laughs and good value. Since reopening with the new state-of-the-art venue and bar
Test your knowledge at The Star of Bethnal Green's quiz
What's the deal? Super Star Quiz is a general knowledge quiz but much louder and with a bit of a glam sheen to it, brought to you by gold-sequinned question-wrangler Nadean Downey. Fun, silly, hard and always packed.
Who do I need on my team? There are points on offer in the music round for dancing, so bear that in mind. Tap up that guy in your office who never speaks since his wife left but gets blasted at the Christmas drinks every year and ends up doing The Worm with his tie around his head.
Go to Repton Boxing Club
Historically speaking, life in East London was one filled with hard times. Money was usually scarce, living spaces were cramped, and the streets were notorious for being rough. Thus, East Londoners were known for being a hardy bunch—people who could not only withstand these conditions, but learn how to thrive as well. This is best shown through the sport of boxing, a rough pastime that has deep roots in the boroughs of East London, where hundreds of world champions have called their home.
Boxing and youth clubs sprung up across the area, serving as a means for young men to discipline themselves, as well as release their aggressions without getting into trouble on the streets. Today, there is perhaps no club that better exemplifies this sentiment than the Repton Boxing Club. Nestled in an old Victorian bathhouse in Bethnal Green, this club has a history of success in both boxing and community outreach, and continues to serve as a reminder to all of East London's boxing prowess.
Before it held the status of an amateur boxing gym, the Repton Boxing Club was initially founded in 1884 as the Repton Boys Club by the Repton College in Derbyshire. In 1895, Oxford House officially announced its support for the club, and advertised it in the annual report as an alternative club for boys who were 'of a lower class' than those the Webbe Institute supported.
Enjoy a French cocktail at Coupette
Chris Moore, formerly of Savoy's Beaufort Bar, is bringing an air of je ne sais quoi to Bethnal Green's resident French restaurant bar. The drinks, by head bartender Frank Dedieu, represent the best of the regions of France, with signatures including Apples, with Calvados and carbonated cold-pressed apple juice, Truffled White Negroni; and the Champagne Piña Colada. 
French fare includes the standard cheese, tartare and charcuterie with larger dishes like whole roasted lamb shoulder served with wild garlic and baby gem, confit duck leg with orange glazed salsify and chicken liver parfait with crispy skin and seasonal chutney.