Soho is the heartbeat of London, this neighbourhood has everything. See the sights around this exciting area of London using this Top Sights Tours Guide!
Colourful Soho has been showing Londoners a good time for centuries. Its messy grid of streets and narrow alleyways is buzzy, grubby, swanky and sexy in equal parts. A bunch of famous faces, including Mozart, Karl Marx and the Sex Pistols, have called it home over the years, and it's still got something of a sleazy reputation, with more than a handful of sex shops, strip clubs and sex-positive bars remaining from its days as London's main red light district. But Soho is no longer the den of disrepute it was in the '70s and '80s. These days you'll find its pavements busy with tourists going to West End shows, media professionals marching to work, hungry patrons sampling some of London's best restaurants and people looking to have a legendary night out at one of the area's great bars and pubs. The best way to soak it all in is simply to wander the streets, before settling down for some unbeatable people-watching at a pavement café on Old Compton Street.
Soho is situated in the heart of London's West End. The area covers roughly one square mile (2.6 square kilometres), so it's easy to explore on foot. Soho is bordered by Oxford Street, Regent Street, Leicester Square and Charing Cross Road.
If you only have time to do one thing
Prop up the bar at Grade-II listed pub The French House. Actors, writers, artists and wits rub shoulders with royalty, bohemians and the film world in this, the most iconic of Soho watering holes. A fabulous and entertaining spot to raise a glass in London, the French House truly deserves its reputation as the best known pub in the world's naughtiest square mile. Its no music, no machines, no television and no mobile phones rule makes it a haven for conversationalists and a firm favourite among some of the best known names in showbusiness.
If you want to do something off the beaten track
You're in the right place for unusual. Why not get inked at Soho's longest running tattoo parlour Diamond Jacks;
The studio offers tattooing by Darryl Gates, Frank 'n' Tattoo and Traci Douglas. They specialise in creating custom pieces but if you prefer, they have thousands of designs for you to choose from. Also offering tattoo redesign and cover ups.
The studio is licenced by Westminster Health Authority and we can provide private facilities for intimate work. All needles, inks and gloves are single use and we use state of the art sterilisation techniques.
If you want to do something on a sunny day
On a bright day, do what every Londoner does: head to the closest patch of green with a tinny in hand. Golden Square, in the City of Westminster, Soho, London, is one of the historic squares of Central London. The square is just east of Regent Street and north of Piccadilly Circus. Soho Square is a garden square in Soho, London owned until at least 1966 by the Portland family but which has since 1954 been de facto a public park leased by the Soho Square Garden Committee to Westminster City Council. It was originally called King Square after Charles II. You'll find a rooftop terrace at swanky Aqua Spirit off Regent Street.
If you want to do something on a rainy day
The Prince Charles, Soho; This independent might not be the best spot to catch brand new releases, but in every other respect it's excellent, and not just because it's surrounded by bars. They run 'seasons' of cinema, often month long affairs celebrating a certain style, genre or director. Besides this, movie-marathons and sing-along screenings are nothing more than business as usual – and don't miss the beer and pizza nights, either. The enjoy old celluloid, with films in 35mm, but also, unusually, now have regular showings in glorious 70mm. While they mightn't show premieres, they'll often have films of the moment a few weeks after your local multiplex – ideal if you kept meaning to see something but never quite got around to it.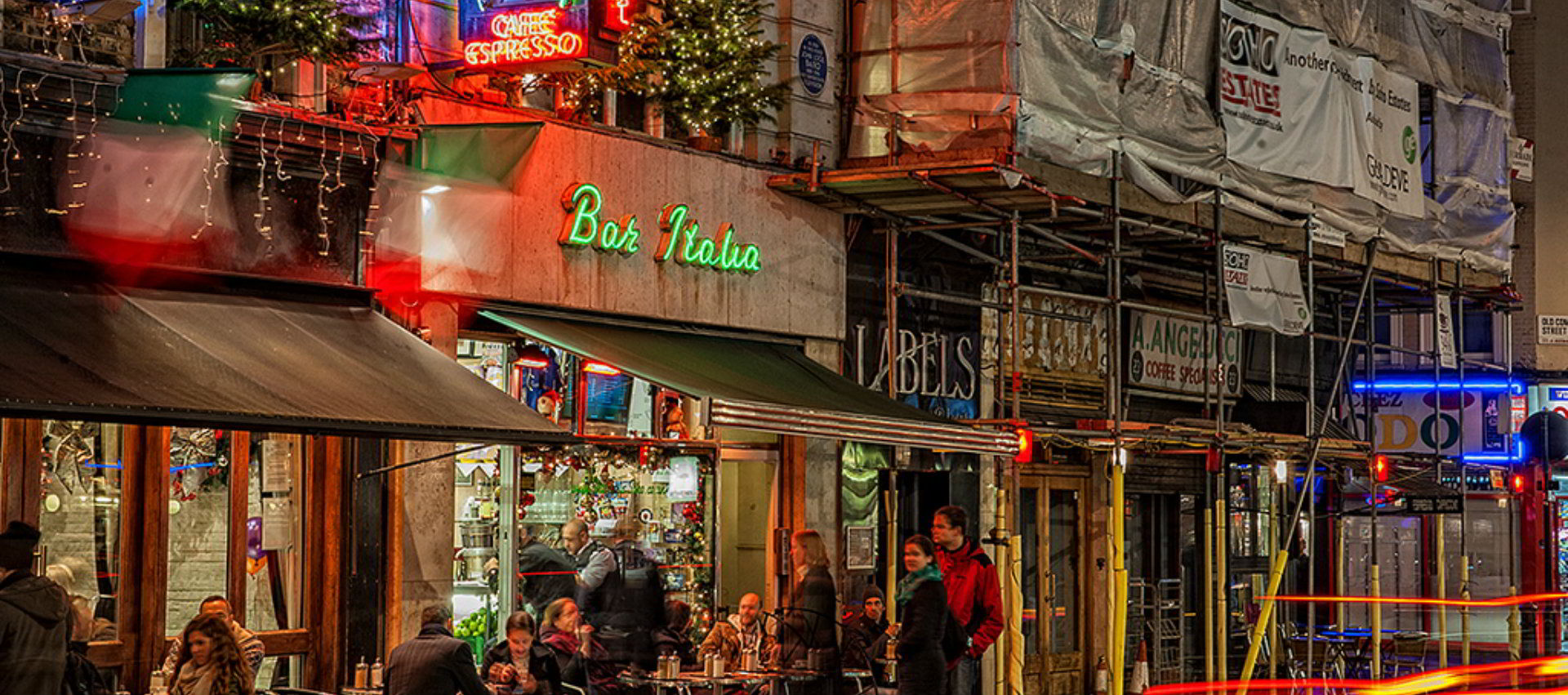 If you want something to do at night
Six Story's on Soho! This club ontains six different levels of bar, each offering a different design and experience. The venue operates 'By Appointment Only', giving a member's bar feel without actually having to be a member. Perfect for private parties and intimate nights out, the many different areas and diverse range of food and drink allows the venue to cater for whatever mood you might find yourself in. Six Storeys is a unique concept with a well-stocked wine menu alongside expertly crafted cocktails. Also Basement Sate is a great spot, this Soho nightspot offers a compact list of cocktails, the promise of desserts, and a rota of DJs throughout the week. Half the menu lists ambitious desserts; the other half is a roster of hit and miss cocktails. Some are truly exceptional, others less so. Order the exceptional l'Entrée des Artistes, a milk-based rum and sherry cocktail infused with salted caramel and bitter notes of coffee.
If you want to have a breather
Rest your weary, shopped-out feet with a cuppa at Soho's Secret Tearoom. Soho's Secret Tea Room is located above the Coach & Horses pub. The bartender will lead you to the winding stairs that take you up to the actual tea room. The  space is small but fills up quickly. The spread is quite large– 2 scones with clotted cream and jelly, finger sandwiches (cucumber, egg, and cream cheese w/ chive), cake selection, and petit four. The tea pot also holds about 8 servings of tea. 


Getting to Soho
Oxford Circus, Tottenham Court Road and Piccadilly Circus tube stations mark the corners of the area, and Leicester Square isn't far either.
What else is nearby?
Geographically, Chinatown is bound by Shaftesbury Avenue to the north, Rupert Street to the west, Charing Cross Road to the east and Leicester Square to the south. The main focal point is Gerrard Street, which runs through its centre. Chinatown is part of London's West End. Find stone lions, contemporary art sculptures and Chinese gates as you explore the area, and don't miss Chinatown's new fourth gate on Wardour Street: completed in 2016 and built in traditional Qing dynasty style, it is the largest Chinese gate in the country. All these impressive decorations make perfect photo opportunities and give an insight into Chinese culture and religion, particularly during seasonal celebrations.