Soho is the heartbeat of London, this neighbourhood has everything. See the sights around this exciting area of London using this Top Sights Tours Guide!
Colourful Soho has been showing Londoners a good time for centuries. Its messy grid of streets and narrow alleyways is buzzy, grubby, swanky and sexy in equal parts. A bunch of famous faces, including Mozart, Karl Marx and the Sex Pistols, have called it home over the years, and it's still got something of a sleazy reputation, with more than a handful of sex shops, strip clubs and sex-positive bars remaining from its days as London's main red light district. But Soho is no longer the den of disrepute it was in the '70s and '80s. These days you'll find its pavements busy with tourists going to West End shows, media professionals marching to work, hungry patrons sampling some of London's best restaurants and people looking to have a legendary night out at one of the area's great bars and pubs. The best way to soak it all in is simply to wander the streets, before settling down for some unbeatable people-watching at a pavement café on Old Compton Street.
Like Britain's famous agent, James Bond, this neighbourhood leads a double life: Soho's grungy streets are home to clean-cut record shops and fashionable galleries. Crowds flock to this edgy epicentre to experience its sultry past and trendy present. Soho's red-light roots and beatnik bastions have steadily transformed into hip public houses, all-night coffee shops, and vintage boutiques that welcome the 24-hour clamour of this cobblestoned neighbourhood.
If you only have time to do one thing
Prop up the bar at Grade-II listed pub The French House. Charles de Gaulle used it as a base in exile during World War II, Dylan Thomas and Francis Bacon both drank here and beer, famously, is only ever served in half-pints.
If you want to do something off the beaten track
You're in the right place for unusual. Why not get inked at Soho's longest running tattoo parlour Diamond Jacks; drink on the underground at 1940s-themed bar Cahoots; press a shiny button for champagne at Bob Bob Ricard; or eat tacos in what looks like a sex shop at La Bodega Negra?
If you want to do something on a sunny day
On a bright day, do what every Londoner does: head to the closest patch of green with a tinny in hand. Soho Square and Golden Square are sweet sun traps if you can find a free spot to sit in. Alternatively, swerve the shade entirely by heading skyward. You'll find a rooftop terrace at swanky Aqua Spirit off Regent Street.
If you want to do something on a rainy day
Soho was once the centre of the British film industry, so if it starts chucking it down, pay tribute by seeking shelter in the Curzon on Shaftesbury Avenue or Picturehouse Central right by Piccadilly Circus. As well as showing the latest blockbusters, you can catch live screenings of plays, cult favourites and vintage classics.
If you want to get cultured
Visit The Photographers' Gallery on Ramillies Street. There's an ever-changing programme of exhibitions as well as a study room, bookshop and café. Or if you prefer your culture live, Soho Theatre on Dean Street is pretty much London's best place to watch up-and-coming comedians: Phoebe Waller-Bridge's 'Fleabag' made its London debut here.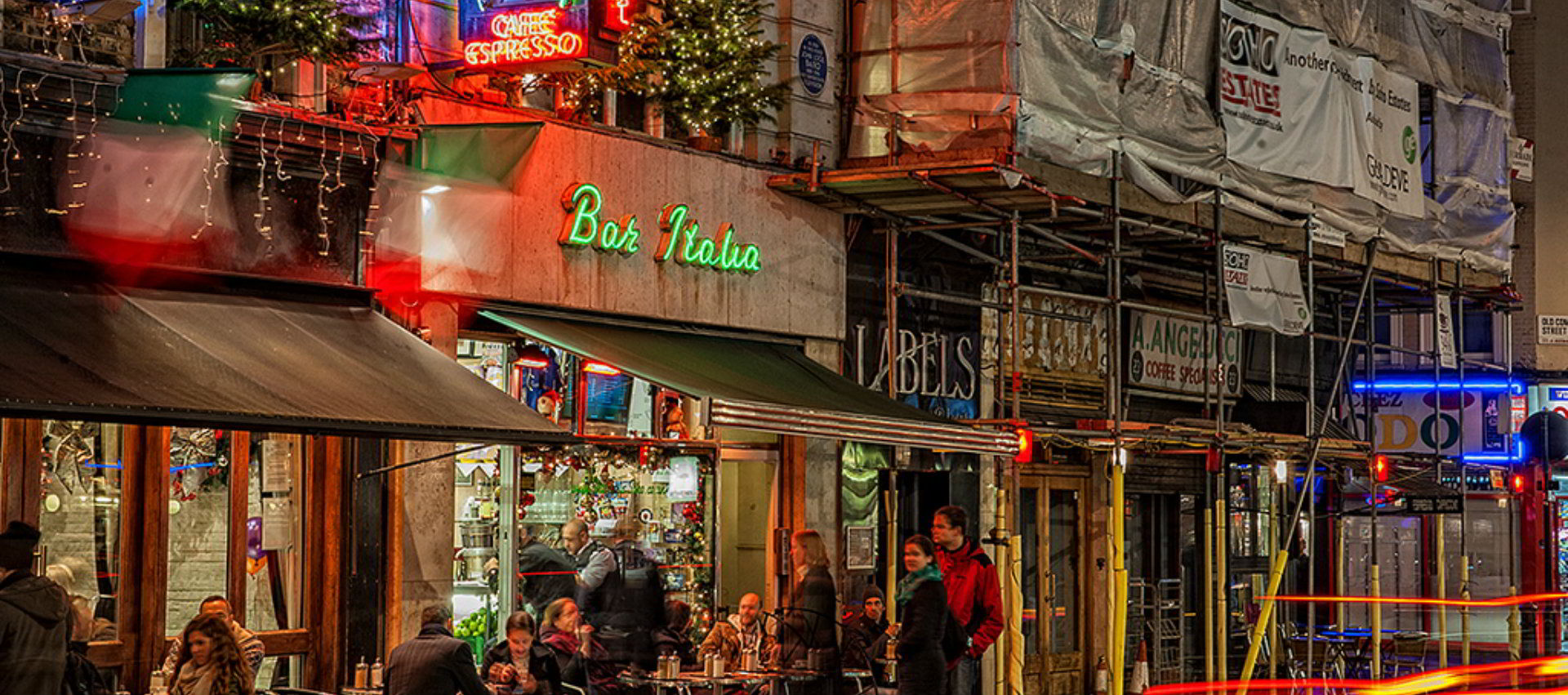 If you want something to do at night
A bunch of Soho's bars stay open into the early hours: try El Camion for tequila until 3am, or G-A-Y Late for sweaty dancing or Ronnie Scott's for late-night jazz. If you fancy staying up even later than that, take in at an all-night movie marathon at one of our fave cinemas in London, Prince Charles Cinema – it's just to the south of Soho.
If you want to have a breather
Rest your weary, shopped-out feet with a cuppa at Soho's Secret Tearoom. This 1940s-themed hideaway is tucked away above the Coach & Horses pub on Greek Street. Just ask at the bar and they'll usher you up.
Getting to Soho
Oxford Circus, Tottenham Court Road and Piccadilly Circus tube stations mark the corners of the area, and Leicester Square isn't far either.
What else is nearby?
Chinatown and its selection of great eats rubs up alongside southern Soho. Oxford Street is one of London's busiest shopping streets, with Fitzrovia to the north. Covent Garden, with its street performers and undercover market, is in walking distance too.  
Interested in private London tours? London guided tours, and other London tours all led by fun London tour guides? Check out the links below!
Sightseeing Tour London: Click Here
Guided Tours London: Click Here
Private London Day Tours: Click Here
Private London Sightseeing Tours: Click Here
Food Tour London : Click Here
Sightseeing Tour London: Click Here
Private London Day Tours: Click Here
Walking Tours London: Click Here
Private London Sightseeing Tours: Click Here

Sightseeing Tours London: Click Here