Canary wharf is the business heart of London with buildings and views that rival New York's Manhattan! Get a view of this special district on a Top Sights Tour today, and check out the handy guide to the neighbourhood below!
There's a misconception that once the working week is done and it's devoid of the buzz of workers, Canary Wharf becomes a ghost town. But there's actually whole host of things to do, see, eat and drink in London's captial of suits, any time of the week.
Soon, the Elizabeth Line will stop at the recently developed Crossrail Place, a giant floating station that could be lifted straight from a 'Star Wars' movie. More than just a station, however, you'll find an oasis of calm at the Crossrail Place Gardens, designed by innovative British architects Foster + Partners. This four-floored development is also home to Giant Robot, a seven-days-a-week rooftop foodie arena from the team that brought you Dinerama. In fact, foodies will be spoilt as Canary Wharf has built up quite the collection of casual and upmarket eateries, and there a number of bars and pubs that can get quite busy (especially on a Friday night).
Whether you're purposefully visiting the area, or just need to kill some time, take a look at what there is to do in Canary Wharf.
Dose up on history at Museum of London Docklands
Museum of London's eastern outpost sits in the corner of the North Dock, with 10 permanent galleries covering the history of the Docklands area, including Docklands at War. There's also a chance to wander through the Victorian reconstruction 'Sailortown'. These displays are topped up with temporary exhibitions.
The family-friendly museum, situated in an old warehouse, has a café and restaurant, and the Mudlarks Gallery offers somewhere for children aged 8 and under to let off steam and get hands on. A solid programme of events for visitors of all ages offers talks, gallery tours, and craft activities, as well as more unusual events including Christmas craft markets and family raves.
Entry to the Museum of London Docklands is free, and the museum is open every day. For more history of the area, sign up to a Derelict London tour (these sell out months in advance).
Get arty
Canary Wharf, a cultural wasteland? Think again. It's actually home to one of the UK's largest collections of public art — we've been exploring and picked our highlights.
Download an art map and plan your trail, or simply wander among the docks, parks and skyscrapers and see what you stumble across.
Indulge in some retail therapy
Crossrail Place is an addition to Canary Wharf's shopping offerings, which also includes stores at Jubilee Place, Cabot Place and Canada Place — altogether they comprise Canary Wharf Shopping Centre. While many of the high end stores cater to the budgets of the people who work in the area, there are also a sprinkling of high street stores for those with more modest budgets. See the full shop directory.
Pop in to the Roof Garden
The Crossrail Place Roof Garden is part of the Canary Wharf Crossrail station, a free public indoor oasis where the plants are arranged according to which hemisphere they're from.
The garden also incorporates a performance space where you might find yourself watching drama, music, dance or spoken word shows. See the forthcoming programme.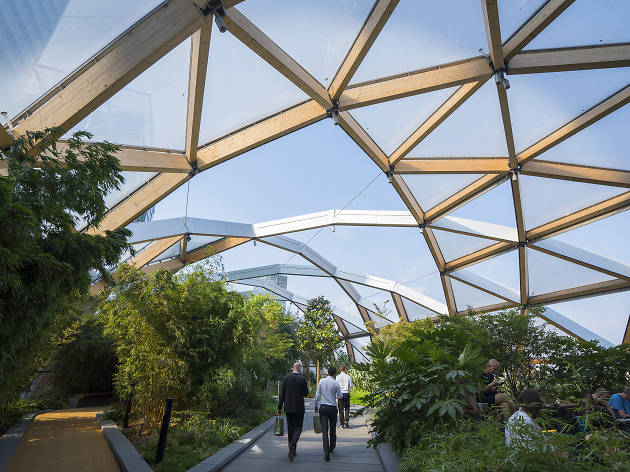 Kick back in the parks
Green spaces do indeed flourish among those skyscrapers. Alright, it's no Hyde Park, but Jubilee Park — perched atop Canary Wharf station — is replete with benches (be prepared to be fight for them on a weekday lunchtime).
Canada Square Park is a small patch of green enclosed by roads and buildings which, if we're being honest, feels more Manhattan than it does London.
Visit the flicks
Crossrail Place is home to Canary Wharf Everyman Cinema, a boutique-style cinema showing a mixture of newly-released and classic films. Expect armchairs and sofas, with foot rests. Posh stuff.
A short stroll from the Museum of London Docklands is the 10 screen Cineworld West India Quay, which tends to stick to the newer releases.
Events
With an ice skating rink in winter and open air concerts, food markets and vintage fairs in the summer, there's a decent programme of events going on in and around Canary Wharf — and plenty of them are free. See details of forthcoming events.
Eating and drinking
From Starbucks and Taylor St Baristas to The Breakfast Club, Wetherspoon and Jamie's Italian, refuelling in and around Canary Wharf needn't be expensive — although if you're looking to push the boat out, there's plenty of scope for that too. See the full guide to cafes, bars and restaurants in the area.