We're in the midst of award season. With the BAFTAs having been and gone and the Oscars looming, we're itching to sit down in front of the big screen. And what better way to do it than at some of the most chilled out, comfortable and stylish cinema venues in London? See below for the ultimate Top Sights Guide!
Screen On The Green
Despite what the name suggests, this is not an alfresco affair. In fact, few places boast as snug an atmosphere as this Islington Green (the real reason behind its title) cinema for film watching. With sofas made for two, and table service directly to your seats, this is dream date territory.
The Electric, Shoreditch
Formerly the Aubin, this snug little cinema owned by the Soho House group has a private members' club feel – with armchairs, footstools and cashmere blankets.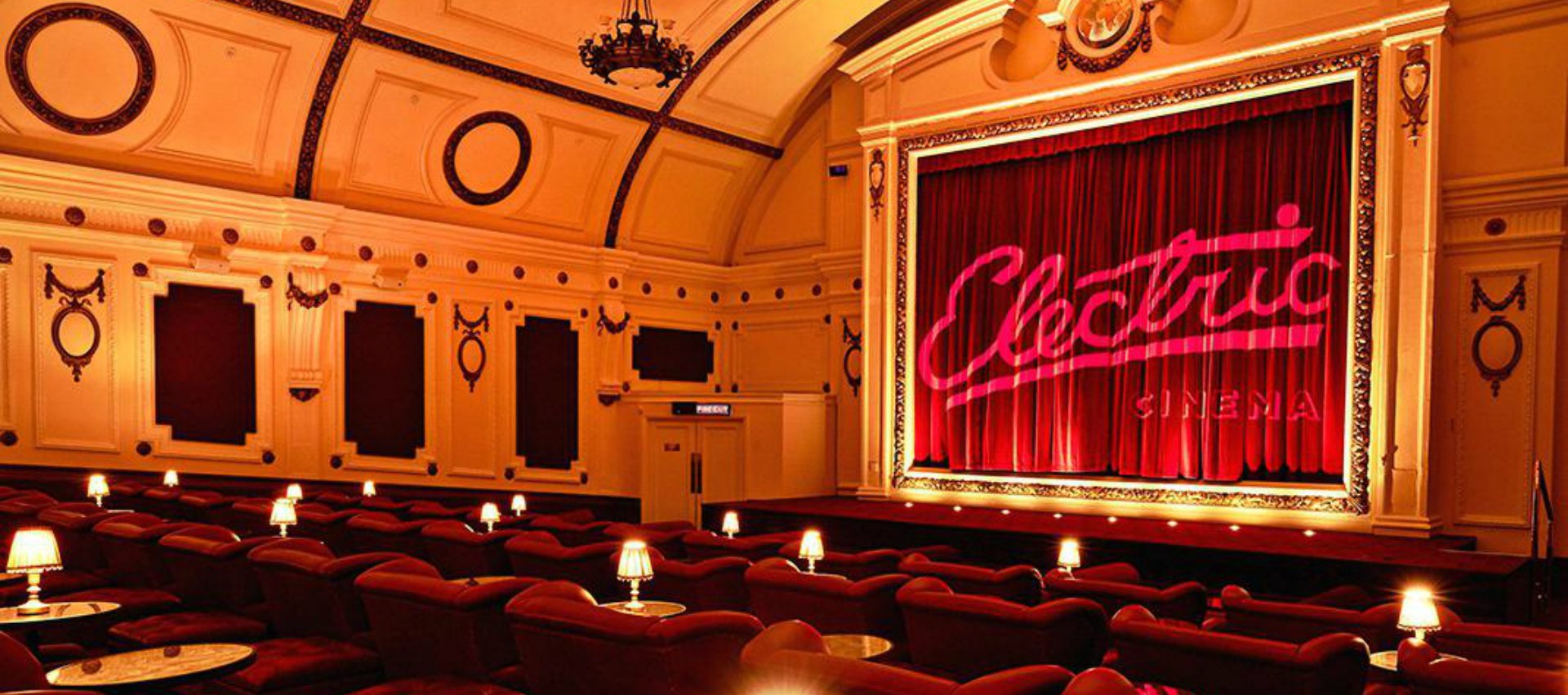 Drive in Cinema at Alexandra Palace
For those of you who have cars in London (we salute you for braving the roads!), you'll soon be able to cruise on down to  Alexandra Palace's drive in cinema. Kicking off on the 10th March with a Grease Sing-A-Long, their retro Drive In Film Club, run by outdoor cinema experts Rooftop Film Club, will be back in business. Get ready to watch your favourite movies in true Grease Lightening style. Rest assured, as well as old classics they'll also be showing some of the latest Oscar-nominated releases
Mixing mainstream releases with arty alternatives – as well as basement bar that hosts music and comedy gigs and a glassy upstairs cafe – picking out a favourite feature of this Picturehouse venue would be difficult if it wasn't for the plush reclining seats. Sold.
PeckhamPlex
It ain't fancy, and yes, the carpet has been known to get a little sticky, but you'll forgive almost anything for tickets costing £4.99 all day, any day
Picturehouse Central
Picturehouse Central brings glamour back to the West End cinema experience. Set over four floors, the complex offers a spacious café with wireless phone chargers, a restaurant serving delicious food at reasonable prices, and a beautiful members' roof terrace overlooking Haymarket and Piccadilly. Alongside blockbuster releases and art house independent flicks, the cinema live-screens a host of world-class arts performances from the likes of the RSC, Glyndebourne and the National Theatre. Stock up on snacks before your film at the retro pick'n'mix stall.
Genisis, Whitechapel
Genesis, located on Mile End Road, is one cool cinema. Not only do they provide numerous areas to chill and re-energise (both their Grindhouse Cafe – pictured above – and Bar Paragon are opening daily), but they also sell unbelievable cheap cinema tickets. On Mondays and Wednesdays, an adult only has to pay £4.50! It's depressing to think that about 5 years ago, this was standard. If you want to splurge, try out STUDIO 5 – Genesis' 50-seated screening room complete with sofas and armchairs.
Mondrian Hotel
Faaarncy. Curzon opened the ultimate luxury 56-seat cinema within the Mondrian Hotel. Members of the public are welcome to watch a mixture of latest releases and classics on Friday evenings, Saturdays and Sundays. tickets for this luxury experience aren't as pricey as you might expect – an adult pays £14.50 for a ticket. If you do want to splash out, however, you and a partner or pal can get tickets, popcorn and wine for £50. 
Electric Notting Hill
Housed in a restored cinema auditorium that dates back to 1911, the Electric has become something of a landmark in West London. Alongside the deliciously comfortable leather armchairs (with foot stools and side tables no less – or if you prefer to recline, opt for one of six front row-beds) the cinema serves up a varied listings programme encompassing current releases, re-runs and cult classics. Cashmere blankets are on hand to beat any cinema chills.
Regent Street Cinema
As the first destination in the UK to show moving pictures to a paying audience, this Regent Street venue has garnered a reputation as the birthplace of British cinema. After closing in the Eighties, the institution re-opened last summer and is now fully restored, screening a wonderful mixture of classics, experimental films, retrospectives and documentaries
Screen On the Green
Part of the luxury Everyman chain, this classy little gem of a cinema has some of the fanciest seats in London, with footstools, cushions and drinks to service your needs.
Barbican Cinema
The Barbican's cinemas might just be the most comfortable in London, while the programming includes festival screenings and classics alongside new blockbusters.
Clapham Picture House 
Like all Picturehouses, this is a super-popular local with a devoted following who come for the anti-multiplex atmosphere and comfy reclining seats.
The Phoenix, Finchley
This cinema first opened in 1912 and has a rich filmography history.The Phoenix have a cafe and fully licensed bar (success!), so you can enjoy a glass of wine while you watch a movie. You can also pre-order food if you wish to eat during a live screening. Heavenly.
As part of the Institut Français, the Ciné Lumière champions French, European and World cinema. The art-deco venue showcases a variety of new-releases, repertory films, and special screenings with director Q&A events afterwards. Sunday French Classics screenings are a weekend highlight, regularly revisiting some of the greatest French cinema flicks. In short, the Lumière is a must-visit destination for foreign film lovers.
Originally a cinema and entertainment centre opened in 1906, the building was transformed into its most famous incarnation – a recording studio – in 1966. Over the following 30 years some of the most recognisable British songs of all time were recorded there – from The Beatles'All You Need Is Loveto the Spice Girls'Wannabe– before the cinema was returned to its original use with a massive refurbishment in 2013. Norwegian reclining seats covered in soft wool – as well as several "love seats" and sofas for those who like their cinema visits a little more cuddly – and civilised tables on which to place wine (in real glasses) and snacks ensure film-watching is a home-from-home experience. And a restaurant downstairs and members' club upstairs mean the night doesn't have to end when the credits roll either.
ICA
The Institute of Contemporary Arts is a members' organisation dedicated to the promotion of and engagement with radical art and culture. Renowned for supporting independent film, their cinema programme is brimming with new independent releases, repertory titles, classic art house flicks and artists' films. Alongside screenings, movie-goers will also find a vibrant programme of exhibitions, talks, debates and other events that promise to inspire and provoke. Every cinema ticket purchase grants visitors a day membership to the institute, allowing you to explore the ICA's galleries and Fox Reading Room at leisure.